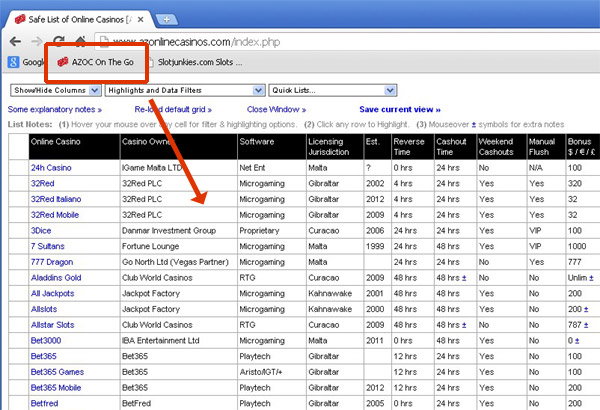 AZOC On The Go
Publisher: A-Z of Online Casinos (AZOC)
What is AZOC On the Go?
AZOC On The Go
is like a bookmark that simply sits on your browser's toolbar and gives you
1-click access
to the fully-featured
AZOC database of safe online casinos
, at any time. View casino cashout times, licensing jurisdiction, ownership details, trust-rank and much more with the ability to do fast side-by-side comparisons.
How to add 'AZOC On The Go'
---
About The AZOC Online Casino Database
The
AZOC Casino DB
contains a lot of background information on some 150 safe online casinos that I have played myself over the years. I've actually played a lot more than what you see but I only add the casinos I consider safe. The crap ones get discarded! Every now and then I revisit them or update the information from feedback supplied by other players so it's generally pretty accurate. I play at quite a few regularly too - you'll see a list of those I consider the best in the links below.
Database Lists
More lists by software platform: